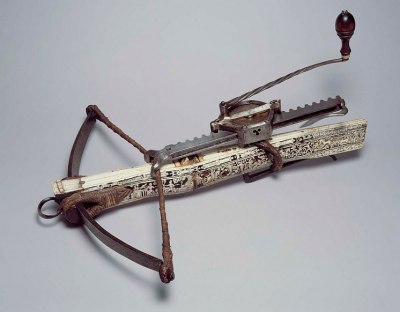 This richly decorated crossbow was made in Germany in the mid-sixteenth century for hunting. The fact that its bolts were shot relatively soundlessly made the weapon popular with sportsmen long after the development of the gun. Bolts were sometimes dipped in poison and even today in areas of rural Spain the poisonous herb white hellebore is still known as 'the crossbowman's plant'.
The tension on the string needed to fire the bolt is created by turning the crannequin, a device invented in the mid-fifteenth century. The diagram below identifies the various parts of the bow.
Previously the string had been drawn by placing the stock upright on the ground with the lathe downmost and attaching the string to a hook suspended from the bowman's belt. As he straightened his back, the string was drawn.
The crannequin had to be removed each time the bow was fired but while this made the weapon too slow to be effective in battle, in the hunt its accuracy over a short range was highly advantageous. The development of the crannequin greatly increased the range of the crossbow and the speed with which its bolts could be fired. It also allowed the stock to become shorter and lighter, and the bow as a whole more portable.
The metal parts of this example are decorated with engraved battle scenes and floral patterns. On either side of the stock, inlays of bone or ivory depict Old Testament figures and heroes of ancient Rome. Most of the stories can be identified by inscriptions of varying degrees of comprehensibility.
On one side David is shown spying upon Bathsheba, while next to them Marcus Curtius sacrifices himself by leaping on horseback into a chasm that has opened in the Roman Forum. Further on we see Horatius Cocles, another valiant Roman, who in 507 BCE single-handedly held a bridge over the river Tiber when his city was under attack. On the other side King Solomon sits in judgment between two women, and the dastardly Tarquin attacks the Roman noblewoman Lucretia. Underneath, a naked woman holds up a bearded head – probably the Jewish heroine Judith glorying in the decapitation of the Assyrian general Holofernes.
The images may have been inspired by woodcuts, but it is unlikely that they were intended to be too closely examined, and there does not seem to be any unifying theme. The overall decorative effect was what counted to the owner of this piece of sporting equipment.