β: This is a Beta release of the Fitzwilliam Museum's potential new website.
We want to co-design our Virtual Museum presence with you.
You can return to our current site at any time.
Following the Government announcement yesterday, museums and galleries in Cambridge will be closed to the public as part of a period of national/local restrictions. So, with great sadness, we will not be able to reopen as planned on 2 January 2021.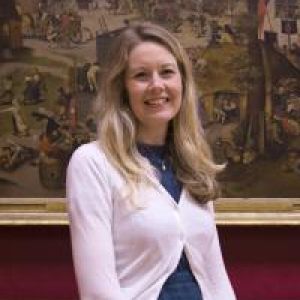 Henrietta is the Assistant Keeper in the Paintings, Drawings and Prints department and has a special interest in 17th-century Dutch and Flemish paintings. She has recently curated the exhibitions Making Waves: Discovering seascapes through drawings and watercolours and Brueghel and his time: Landscape drawings from the Bruce Ingram bequest. She is a member of CODART, the international network for curators of Dutch and Flemish art.
Before joining the Fitzwilliam in September 2015, Henrietta was Curatorial Fellow at Dulwich Picture Gallery, London and Curatorial Trainee supported by the Art Fund at the National Gallery, London during which time she also worked at Manchester Art Gallery to research and redisplay their Dutch and Flemish collection. She is currently putting together a research project around the Fitzwilliam Museum's significant collection of flower paintings, botanical drawings, floral miniatures and albums. Henrietta received her History of Art BA (Hons) from the University of Nottingham and her History of Art MA from the University of Bristol.
Associated Departments