β: This is a Beta release of the Fitzwilliam Museum's potential new website.
We want to co-design our Virtual Museum presence with you.
You can return to our current site at any time.
Following the Government announcement yesterday, museums and galleries in Cambridge will be closed to the public as part of a period of national/local restrictions. So, with great sadness, we will not be able to reopen as planned on 2 January 2021.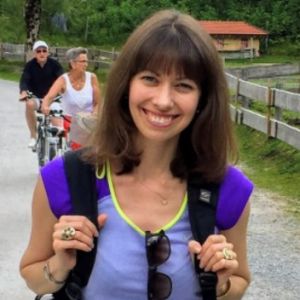 Dr Melanie Pitkin is a Research Associate in Egyptian Antiquities at the Fitzwilliam Museum and, since January 2018, a core member of the Museum's ancient Egyptian coffins project. She holds a PhD in Egyptology from Macquarie University where she focused on the history and chronology of Egypt's First Intermediate Period (c. 2150-2000 BC) through a study of its false doors and stelae, and a Masters in Museum Studies from the University of Sydney.
Since joining the Museum, Melanie has been involved in translating the hieroglyphic texts and describing the iconography of the coffin sets of Pakepu and Nespawershefyt, and making the Museum's coffins research more accessible and engaging to diverse audiences. This has primarily been through an online resource (www.egyptiancoffins.org), the development of a 'Pop-Up' Museum delivered in culturally underprivileged parts of the UK and Egypt, and training initiatives in coffin research methodologies and outreach with curators and conservators at the Egyptian Museum Cairo. Melanie was also a Postdoctoral Fellow on the 2019 AHRC Creative Economy Engagement project.
Prior to joining the Fitzwilliam Museum, Melanie worked for more than a decade as a museum curator in Australia where she worked on many high profile exhibitions. She is a Board Member of CIPEG (ICOM's international committee for ancient Egyptian and Sudanese collections) and a tour leader to Egypt.
Associated Research Projects
Associated Departments