β: This is a Beta release of the Fitzwilliam Museum's potential new website.
We want to co-design our Virtual Museum presence with you.
You can return to our current site at any time.
Following the Government announcement yesterday, museums and galleries in Cambridge will be closed to the public as part of a period of national/local restrictions. So, with great sadness, we will not be able to reopen as planned on 2 January 2021.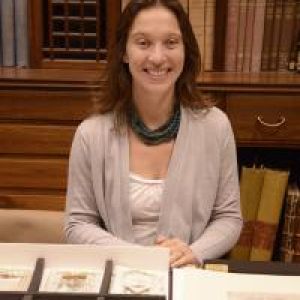 Following completion of her Ph.D. at the Courtauld Institute of Art, London (2003), Rebecca has worked on various documentation and cataloguing projects at galleries and museums, including writing short-texts on 19th-century British art at Tate Britain and producing on-line resources on French Impressionism for the Courtauld Gallery.
A period in 2004 as a Neil MacGregor Scholar cataloguing European paintings pre-1850 at Nottingham Castle Museum was followed by employment at the Royal Academy of Arts, cataloguing and researching two large collections of works on paper by Sir George Clausen, R.A. and Dame Laura Knight, R.A. This project culminated in 2008 with an exhibition of Knight's drawings, The Magic of a Line: Drawings by Dame Laura Knight, R.A., Library Print Room, Royal Academy of Arts.
Rebecca's work at the Fitzwilliam Museum has focussed on cataloguing and documenting the unaccessioned areas of the print collection, in particular the large collection of valentines, the majority of which were bequeathed to the museum in 1928 by mathematician and Fellow of Trinity College, J.W.L. Glaisher. An exhibition on the theme of love, showcasing the valentines collection, will run from January 30th –May 27th 2018 and a supporting publication on the Fitzwilliam Museum's collection of valentines is forthcoming.
Publications
Contributions to:
Opulence and Anxiety: Landscape Paintings from the Royal Academy of Arts (Compton Verney, 2007)
Art in the Age of Queen Victoria (The Royal Academy of Arts, 1998)
Exposed: The Victorian Nude (Tate Britain, 1999)
Papers:
'Exhibiting Eugenics: "Fair Women", historical portraits and the question of provenance', Victorian Visions, Clare College, University of Cambridge, 2004
'Visualising the maternal body: Eugenics and ante-natalism in turn-of-the-century British Painting', The New Woman in the International Periodical Press, Manchester Metropolitan University, 2000
'The "clean" and the "dirty" in Burne-Jones's Pygmalion series' ', Edward Burne-Jones, Barber Institute of Fine Arts, University of Birmingham, 1999
Associated Departments