β: This is a Beta release of the Fitzwilliam Museum's potential new website.
We want to co-design our Virtual Museum presence with you.
You can return to our current site at any time.
Museums and galleries in Cambridge will be closed to the public as part of a period of national/local restrictions.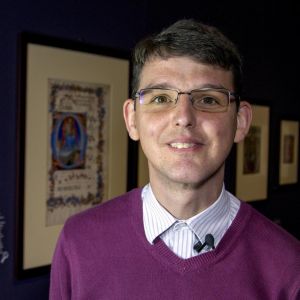 Mr Edward Cheese
Edward Cheese is an Accredited Conservator specialising in the care and repair of western manuscripts and printed books. He has an MA in English Literary Studies form the University of Durham, a Postgraduate Diploma in Book Conservation from West Dean College, West Sussex, and is a Queen Elizabeth Craft Scholar.
He worked at the Cambridge Colleges' Conservation Consortium from 2006 until 2014 and led the unit as Conservation Manager for the last three of these years.
In 2015 he took up the post of Conservator of Manuscripts and Printed Books (Assistant Keeper) at the Fitzwilliam Museum.
Job title: Conservator of Manuscripts and Printed Books
Associated Research Projects
Associated Departments
Updates about future exhibitions and displays, family activities, virtual events & news. You'll be the first to know...